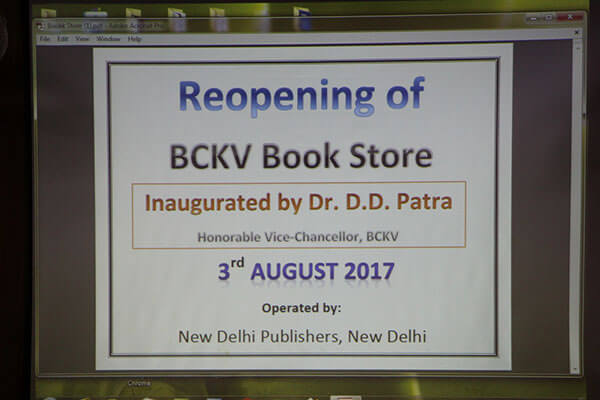 The University Bookshop (location: Central Library, Ground Floor) named as BCKV Book Store is run by Kali Babu (Mr Kali Ranjan Chakraborty) since the inception of the University at Mohanpur. After the sad demise of Mr Kali Ranjan Chakraborty and following the proper tendering process, it is running by the New Delhi Publishers which was inaugurated by Dr DD Patra, Hon. Vice-Chancellor of BCKV on 3rd August 2017.
This bookshop is running by New Delhi Publishers who is deals with Publishing and Distributions of Books and Journals of various subjects like Agriculture, Horticulture, Education, Medicine and others. Their head office is in New Delhi and branch office is in Kolkata. They are publishing various kinds of books which include Thesis, Text books, Reference Books and Question Bank.
They have a large collection of books of Indian and International authors and Govt Books in the book shop. Discount of 10-15% is offered to the students on Text books for the purchase of books from the book shop. Foreign books can also be available there on request. It has become a major outlet for the neighbouring educational institutions in and around Kalyani for quality of books on higher education.
Working Hours : Monday- Saturday: 9.30 am - 6 pm.
Contact Person : Chanchal Mukherjee / Avinash Kumar
Contact Number : 9874580088
To know more about New Delhi Publishers click here