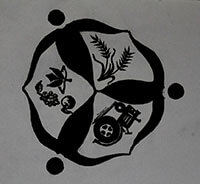 The Alumni Association base of Bidhan Chandra Krishi Viswavidyalaya and State Colleges is stationed at the Administrative Building in Mohanpur, Nadia 741252 West Bengal with nearest railhead 11kms away from Kanchrapara Station and 50 Kms away from Kolkata Airport enrouted NH-34.
Current office bearers are as follows:
| | | |
| --- | --- | --- |
| President | : | N. Trivedi (Mobile: 9830177113) |
| Secretary | : | D. Basu (Mobile: 9830031075) |
| Treasurer | : | P.K. Mani (Mobile: 9477465968) |
The Alumni Association involves in various activities,like organising of Reunion, National Seminar, website maintenance, facebook page maintenance . Apart from these, another activity is bearing the Medical expenses for the needy that is borne by the Alumni. Since 2001, three reunions were organized, first on 3rd March 2001 followed by 8th April, 2012. During this duration the Alumni of State Colleges of Agriculture and Bidhan Chandra Krishi Viswavidyalaya devised a new functionary body and in the occasion of reunion kindled the website launch with an intent to follow our brother institutes, aggregating all our past and present information. The third re-union was held on 23rd January 2015. Apart from the reunion events, one day seminar on "Leading Bengal in Agriculture Green to Evergreen Revolution" was held.