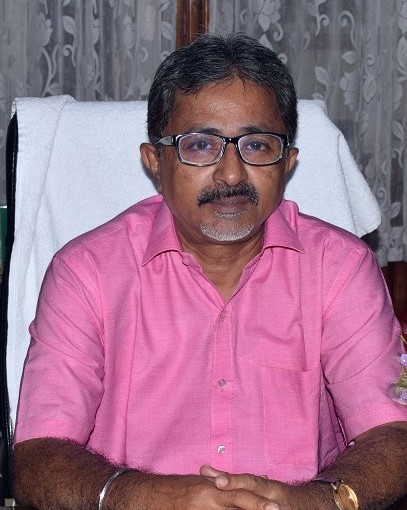 Prof. Gautam Saha
Vice Chancellor
The Bidhan Chandra Krishi Viswavidyalaya is, as an Institution itself, a Big-Name in the history of Agricultural Education, Research and Extension in India. The University of pride.....the University of dream of ours all....our dear Mother has traversed a long path of journey along the axis of time since September 1, 1974 - the year of her establishment and it fills my heart with unspeakable joy to communicate that our dear beloved Varsity BCKV is going to complete her fiftieth year of journey-the Golden Jubilee Anniversary, this year on the ensuing 1st September.... Indeed, a landmark achievement in the history of the Varsity and for us all too.
In order to make the Occasion an everlastingly Memorable one as well as to mark the Occasion as a Great Milestone in Success and Development; with Your All-round Active Participation, Initiatives, and Earnest Cooperation, we, the competent authority of the University, have planned to make year-round celebration of the Golden Jubilee Anniversary of the Varsity from September 01, 2023 through organizing National and International Seminars, Symposia, Workshops, Extension activities as well as by virtue of conducting Games & Sports, Social & Cultural programmes, etc.
The Golden Jubilee Celebration-centric academic, cultural, social programmes and functions, we do hope, will further magnificently add a bit to the Glory and Fame that our Beloved Varsity has, at both national and international levels, earned through extraordinary excellence in research, academics and extension-cum-KVK systems' functioning achieved through relentless, untiring, ceaseless efforts and committed services of the talented Scientists, Teachers, Extension Functionaries, Officers, Staff and Outstanding Luminaries of the BCKVian Alumni and above all; achieved due to our dear Beloved, extraordinarily intelligent and highly talented UG, PG and Ph. D students' constant, unwavering devotion, dedication, determination and commitments which we do have faith in .........
In omega; I feel confident that, through all-round coordinated developmental actions and active, whole-hearted, committed cooperation from all corners of the University including the Respected Teaching fraternity, Scientists' fraternity, Extension functionaries' fraternity, Officers' fraternity, Staff's fraternity and the Beloved Students' fraternity as well as through suggestions and cooperation to be received from the Respected enthusiastic Members of the illustrious BCKVian Alumni, it is next to impossible for our Beloved Mother Varsity to be back on the rails and thereby reach the Pinnacle of Success ..... Let us, therefore, make this pledge that we all BCKV Teachers, Students, Scientists, Officers and Staff, regardless of our differences, shall work together hand in hand, shoulder to shoulder to reach newer and newer, unprecedented milestones in research and education in order to make Her No. 1 Agricultural University in the Country and thereby make Her a permanent Citizen in the Hall of Fame and Glory----- so permanently that focus on humanitarian, applied as well as fundamental research, basic education and extension education does not get dissolved even momentarily in the greater interest of the benefit and overall upliftment of the farming fraternity of the State of West Bengal and the Country in general.
Jay Hind
Thanking You All with Anticipation and Warmest Regards,
Vice Chancellor