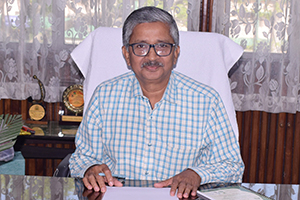 Prof. Subhendu Bikash Goswami
Vice Chancellor
I feel proud to join the prestigious Office of the Vice-Chancellor of Bidhan Chandra Krishi Viswavidyalaya, one of the premier SAUs of India starting its journey as Faculty of Agriculture in 1960 under Kalyani University and subsequently it emerged as a full-fledged State Agriculture University in 1974. I am delighted to write welcome note in the university website page of my esteemed alma mater BCKV. As the Vice-Chancellor, I convey my warm and affectionate welcome to our beloved students, faculties and staff of this Viswavidyalaya.
I am confident to serve this prestigious University with the commitment not only to carry forward the on-going works but to keep up the past glories and to steer the university on the path to new directions in keeping with the demands of day following the New Education Policy 2020. The ultimate goal of the 'Farm University' is to prepare a generation of human resources that can work for the betterment and the development of the agriculture achieving the food security and sustainable livelihoods of stakeholders-farming community under changing global climate and looming water crisis. We are all set to respond to the proposal of India to make our country as the global hub for millets on the occasion of International Year of Millets, 2023, as declared by United Nations. To usher and consolidate our efforts to make quality education with higher calibre and elevated vision, I assure our students, faculties, officials and employees of my wholehearted support for them.
I seek cooperation of all the alumni who have made an indelible mark wherever they reached and raised the logo of BCKV atop. I urge our esteemed alumni for their active coordination, cooperation, guidance and constructive suggestions for the betterment of their alma mater BCKV.
As regards to campus development, the University struggles hard on financial and manpower fronts. I am of every hope and confidence that with the kind and candid support from ICAR, New Delhi, and State Government, WB, we will be able to tide over the situation and invigorate the pathway of progress.
I wish you all brighter days and prosperity.
Vande BCKV